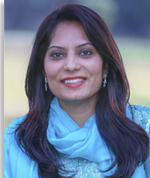 Introduction
She holds a Master Degree in Business Admiration, major in Finance from University of the Punjab Gujranwala Campus. She is declared the best student in MBA session 2007-2009. She has been a scholarship holder in her studies after intermediate.
She has done her MS from NUML University in 2015. Her areas of interest include Financial Management, Corporate, Finance, Entrepreneurship and Management. She joined IBA in October 2012.
She has recently presented her research paper in ASIA International conference, 2016 held at UTM, kuala Lumpur Malaysia.